Wizkid is no stranger to scandals. In 2016 alone, the 25-year-old have recorded two major scandals including fathering a second child with an American-Guinean lady named Binta Diallo and an infamous social media fight with Lagos blogger Linda Ikeji.
Well the singer who's getting set to join US singer Chris Brown as a special guest on his "One Hell of a Nite" tour in Denmark, Germany and Holland has been hit with yet another scandal.
Humble Entertainment, a show promoting agency in London, UK, has called out Wizkid, for failing to perform at their concert after he has been booked for the event.
The agency, who are the organisers of Safari Night gigs, released a statement online, apologising to fans for Wizkid's failure to perform at the concert.
The statement released on May 26th, 2016, reads, "HumbeEnts first and foremost would like to express our sincere apologies for any inconvenience and disappointment caused by Wizkid being unable to attend our event. We worked tirelessly to rectify this issue but unfortunately it was beyond our control. Despite going through all the necessary procedure to book Wizkid, which included signing a contract and paying the required fee, we have been let down by the booking/management parties."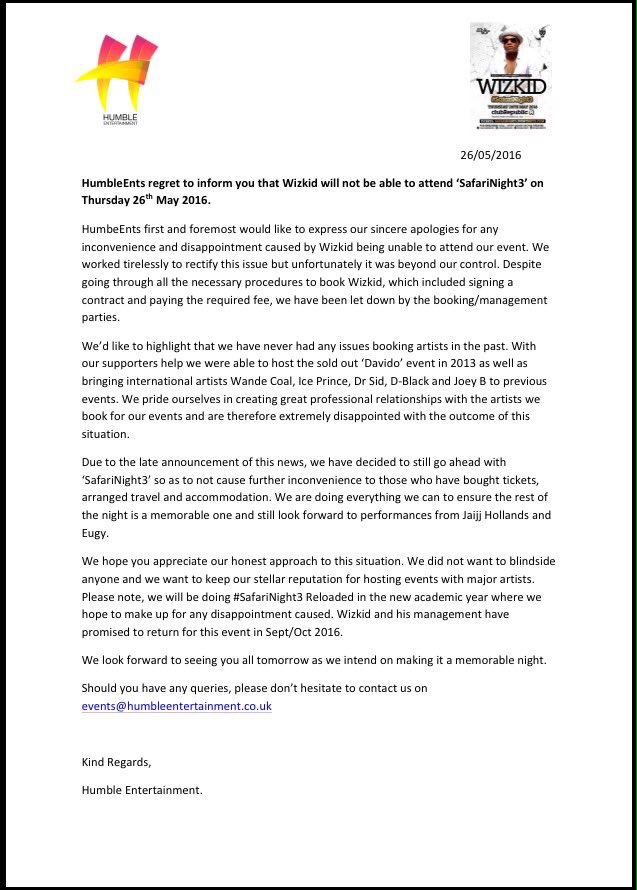 Wizkid is yet to officially react to the accusation but his management, List Entertainment has however denied any knowledge of the matter.
Sunday Are, the owner of List Entertainment took to twitter to react to the accusation made by Humble Entertainment writing, "
please always get your facts right. I don't know about this. Nobody discussed this with me
".